Guest Posting – your questions answered
In response to the increasing numbers of questions I get about guest posting, I wanted to put together a Q&A post which aggregates some of my answers and hopefully proves useful to anyone who is exploring guest posting as a link building technique.
These are all genuine questions I have been asked, in most cases more than once…
Where does guest posting fit into my SEO strategy?
Guest posting as a practice really does have so many applications and benefits. Here are some of the key reasons to do guest posting (which should help you figure out how this fits into your overall strategy):
Build trusted, authoritative links – this will help improve the search engine visibility of your site (or your clients) and not for the short term either. There is nothing more stable than constructing the foundations of your link profile from guest posts on high-authority and highly trusted blogs and websites in your niche.
Encourage crawling – by increasing the number of inbound links you have and the relevance and popularity of your website from a link perspective, you are likely to be encouraging Googlebot to crawl your website on a deeper and often more frequent basis helping to index more of your content and improve your visibility in the search results.
Rectify your misdemeanours of the past – following a spammy link profile clean up, there is nothing more suitable for starting the process of rebuilding the trust of your website than publishing a number of solid guest posts on high-quality blogs.
Build deep links – having deep links is a great thing but getting them can be challenging. Guest posting provides a way to proactively develop links to pages deep within your website in a way that is both natural and helpful to the user.
Proactive promotion of other content projects – perhaps you have an eBook, long-form blog post or infographic that you want to promote, guest posting is an excellent way to increase visibility of these initiatives. Guest posting will likely send send referral traffic to this content and by developing links to the content, you'll also increase the perceived importance of these pages in the eyes of Google which will result in more search engine traffic long term.
Brand visibility – link building and brand building go hand in hand and guest posting is a perfect way to build links and increase the visibility of a business or an individual within a niche. You could pay for advertising and brag about how good you are at what you do or you could write a few guest posts that offer tremendous value to your prospective customers and prove that you are good at what you do.
Think about AuthorRank – with the current and forthcoming impact of AuthorRank/AgentRank, it really is essential to be thinking about who you are getting links from rather than just where. Guest posting is (and will continue to be) a fantastic way to solidify your reputation. Read more about AuthorRank and guest posting.
Guest posting vs other forms of link building
That is a pretty expansive question and the answer is that the link building techniques you plan to invest in will depend upon your goals, attitude to risk, budget and about a million other things.
A very good comparison of linking strategies was put together by Ted Ives at Coconut Headphones (embedded below):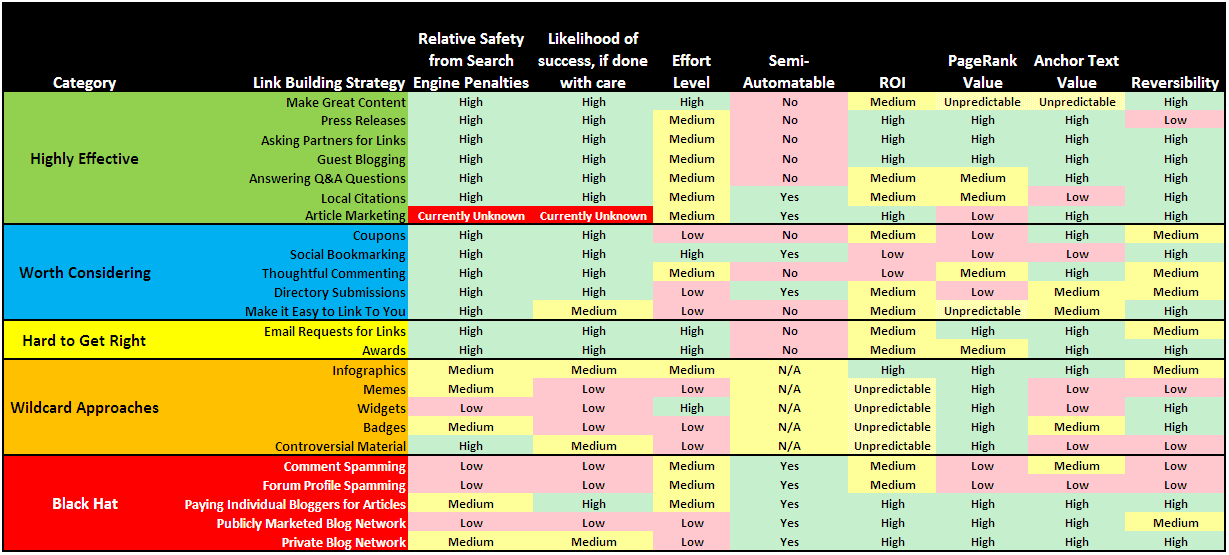 Linking Strategies Taxonomy *click to enlarge* Source:Coconut Headphones
Is guest posting the only link building tactic I need?
This is definitely a very common question that we get asked. The answer again really does depend.
In some markets, guest posting can be largely your only proactive form of link development: You can put together a blog, broadcast your content via social media, publish guest posts on various targeted blogs and truly dominate the SERPs thanks to the powerful links you pull in from the posts AND the links you earn passively based on your reputation in the space and your useful, high-quality content. (Here's a case study that demonstrates the impact guest posting alone can have on a website's search visibility.)
Sounds a bit like a nice unicorn filled fantasy and in some markets it is. Some of the more competitive niches, you will need a lot of guest posts and/or you will need to invest in various other link building methods just to compete. I stand by the notion though that guest posting should be a staple element of your link building.
Don't ignore other linking strategies however because in doing so, you are leaving potential gold on the table and you are unlikely to be seeing the true potential of your website. My best advice is to commit to a core few techniques (including guest posting), focus your resources in these areas and reap the benefits whilst picking up some bonus passive links.
Guest posting in-house or hire an agency?
I'm biased obviously but let's look at the clear pros and cons of both of these arrangements:
In-house
Time consuming
Limited resources
Lack of expertise in guest posting
Infrastructure needs to be setup
Intimate knowledge of the business
Industry contacts
Detailed content and value to be offered in guest posts
Hire an agency
Expense
Initial "bedding in" stage where provider needs to get to know your business
Expertise in guest posting
Efficiency (offering value for money in the overall scheme of things)
Help you maximise and leverage your industry connections
You get to outsource the hassle and worry of managing this time consuming process
Tools, setup and infrastructure already in place
Is site relevance really all that important?
We think it is really important.
Guest posting as a link building strategy has longevity but only if the links you get are defensible and would stand up to human inspection. This isn't just because we want to ensure guest posting helps to support and improve your search engine visibility long-term and therefore needs to stand up to future Google updates. We also want to make sure that your brand reputation remains in-tact and in most cases enhanced. Nothing can be more of a turn-off to a blog reader than an irrelevant link which has been shoe-horned into an unrelated blog post.
The often misunderstood thing about relevance though is that it doesn't necessarily have to mean that if you sell fish tanks for office buildings that you need to get a link from another website specifically about fish tanks for office buildings. Relevance is in the eye of the user, does the link make sense from the average web surfer's perspective? If so, then it would be a relevant place to publish a guest post to.
In this particular case, you may like to publish a guest post on a business website or management/motivation blog as both would be interested in getting some 'different' content on their website from a fish tank expert and your potential customers may well be reading these blogs.
Should I only aim for sites that have a higher PageRank than my own site?
This is an odd question which I surprisingly get asked quite frequently, it baffles me slightly because it implies a few things which don't make a lot of sense:
It suggests PageRank is the be all and end all of link building – when in reality it is just a part of the jigsaw.
It suggests that high-authority websites can't derive any value from guest posting, which simply isn't true (if you have a PR6 site, it would probably be a challenge to find too many blogs that are PR7 or above).
It suggests there is some kind of "perfect guest post", when of course there isn't.
It also makes your link building look really unnatural since how many websites would naturally only accumulate links that exceed specific metrics, it just looks suspicious.
Essentially if this is your mindset going into guest posting you're probably approaching this all wrong. Assess the link opportunity holistically and be prepared to be fluid to ensure you get the opportunity to publish to a variety of websites.
I'm a My Blog Guest member – so I've got guest posting covered haven't I?
I mean absolutely no disrespect to My Blog Guest or other guest posting communities like Blogger Link Up and in fact I actively encourage their use whenever I talk about getting started with guest posting BUT these should not be your only source of opportunities. If you concentrate your efforts solely on these kinds of communities, you are leaving so many high-value opportunities on the table.
These communities are popular because they make things easy, which is great. However some of the very best opportunities, the truly valuable ones are difficult to find and even more difficult to obtain which is what makes them so valuable because your competitors probably can't be bothered to go out and get them.
Not mentioning the fact that as guest posting continues to rise in popularity, these kinds of communities are going to be the first to "fill up" with floods of new members which in many cases could lead to a decrease in the value and credibility of the opportunities being presented. Guest posting in most markets is a zero sum game.
Can I reuse the same article on a number of different blogs?
Erm, no. We're not article marketing here.
There's nothing wrong with adapting and reworking specific topic areas to turn a handful of ideas into a number of guest posts but you have to question the value of getting a guest post published on a blog that cares little about the uniqueness of that content.
Should I be building rapport with prospects via social media then pitching via email?
Not necessarily. To get maximum ROI from your guest posting you should categorise your prospects according to their value and standing in the marketplace then tailor your pitch accordingly. Some prospects require sweetening up via social media before pitching them by email, others are pleased you are paying attention to them at all and will happily accept your pitch via email right off the the bat.
You're wasting precious time by tweeting every single prospect before emailing them so be sure to categorise your prospect list before doing any kind of outreach. Your high-value opportunities will likely be obvious and you'll want to invest time in securing guest posts on these websites but your 'staple' opportunities just go straight in with the high-conversion outreach email.
How do I get started with guest posting?
I wrote a fairly comprehensive guide to guest posting over on SEOgadget and whilst some of the finer details of the way we operate has changed since that post was written, the core process is still a solid starting point for anyone looking to get up and running with guest posting.
Understanding how you can get guest posting wrong and reading about some of the common mistakes we see people make would probably be time well invested, before you plan any kind of extensive campaign.
Where's the automatic software for doing this guest posting thing?
Ha! There is no such thing.
There are plenty of tools to make this job easier but tenacity, ingenuity and planning are what makes a guest posting campaign work. Sorry there just aren't any shortcuts out there.
If you do find a 'push-button' way of doing this, you're probably posting to a blog network rather than doing actual guest posting. Additionally use the various guest posting communities and networks out there sparingly and as part of a varied overall guest posting strategy (keeping a keen eye on quality at all stages) because not all guest posts were created equal.
Is guest posting a 100% safe method for building links?
If you are talking about safe from future Google updates, nobody can say that any particular kind of link building is 100% safe. However guest posting is about as close as you will get to stable, safe and high-value in the long term.
Keep it natural, avoid leaving extensive footprints, mix up your anchor text, think carefully where you publish to and think about links in terms of value beyond SEO, that way you'll probably be standing on solid ground in the long term.
Is the quality of the content really that important?
It really genuinely is so important. There is so much more to this argument than "create great content" to "make the web a better place". Here are some of the tangible business reasons you need to invest in top-quality content in your guest posting campaigns:
Open doors to bigger and better blogs
Attract targeted (& primed) referral traffic which may convert into leads
Enhance brand reputation rather than detract from it
High-quality guest posts are shareable and linkworthy which will make the post much more valuable to you
Google works at a page level so a craptastic guest post with a link to your website, even on a high-authority website offers little value now and may offer no value whatsoever (or even hinder performance) if Google Penguin continues its march.
We have freelance subject experts who produce content for only one industry or niche in their work for us, this leads to a much higher standard of post and content that is detailed, insightful and genuinely useful to the audience reading it.
As guest posting continues to grow in popularity, the sheer volume of submissions that bloggers will begin to receive will be overwhelming and if you want to stand out then you need to make sure your content goes way beyond being generic – now is the time to commit to good content.
If they don't have a "write for us" page, will they still accept a guest post?
You'll need to ask and find out.
Some bloggers don't publish guest post guidelines because they don't encourage or even accept guest bloggers but a surprising number of bloggers and website owners still have very limited knowledge about guest posting.
To some it hasn't even occurred to them that anyone would be interested in contributing content to "their little website", we still get several webmasters a week who come back to us asking us if we are sure we don't need paying for writing the post and asking us for a second time just what is in this for us.
Don't you publish a private newsletter on guest posting?
Yes, yes we do. It's called Guest Blogging Track and it is a regular email-only service which offers exclusive content to anyone looking to do guest posting for links, referral traffic and brand building. More details can be found over here. Please note that it is a DIFFERENT subscription to the one promoted at the end of this blog post.
Did you make that last question up yourself so as to squeeze a shameless plug for the signup page?
Yes, but you should still sign up for Guest Blogging Track anyway.
Feel free to ask any other questions in the comments section below…